All Inventory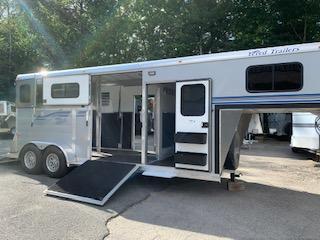 2019 Kingston Brunswick, GN, Pre-Owned, Used once, All loaded out, Silver/Blue, On Sale.
Stock #: 2019 Brunswick
2019, Shadow, 2h thorobred d/room, All alum, ramp load , 2 side doors with drop down windows, silver. mtd spare tire, roof vents,
Stock #: 2019 Shadow
2004 Equispirit, (HAWK) 2h Warmblood g/n with d/room, Above excellent condition, Rear ramp with top doors, window in d/room wall. saddle rack, brush trays, All new tires, all serviced, cleaned, rehabed. Silver sheets, Green stripes.,, Steel frame/ alum skin./ fiberglass roof! Hardly Used ...
Stock #: 2004-Equispirit Warmblood GN
2021 Sundowner, Custom 2h Gn, Two tone, Silver/Black, Extra wide and long for big horses, Pass thru door, 3 Saddle racks, briddle racks, 2 brush trays, Mirror, 16" 10ply heavy duty tires, mtd spare Comes with several "Yered Specials"
Stock #: 2021 SD Black/Silver GN
2020 Kingston Classic Elite D/Room, All aluminum, Pass Thru door with window, All std elite options, Silver/Blue/gray stripes. D/room , saddle racks, blanket bar /etc. Other colors available. The Premier Kingston Dealer!! White in stock! NOTE! DUE TO THE FACTORY SHUTDOWN< TRAILERS ARE COMING IN SLOWLY< BUT WE HAVE MORE COMING IN> BE PATIENT AND BE SAFE!! ...
Stock #: 2020King-classic/elite-dr
New 2019 Integrity Trailers 7x16 Motorcycle Trailers. Available in black and silver & (Harley orange and black.) On order Side door and ramp with ramp extension. Tandem Axles, 7000# gvw V-Nose Other styles /colors in stock!!
Stock #: 2019-Integrity
All alum stock trailer 6'9" wide. 7'3" ft tall, 18ft floor V-NOSE, Double rear doors, with cam latches. , alum floor ctr gate, . Rt front door. , Spare tire, 2/3 or 4 horses, Cows, etc, 2horses and a cart?? LOTS OF HAY! Whatever your needs might be!! Note: Shown with " Optional" rubber floor mats....
Stock #: 2021-18ft -Stockman BP
Get a Quote
Please enter your contact information and one of our representatives will get back to you with more information.
Click to Call
Please enter your name and phone number to get calling options.