All Inventory
Brand New Bri-Mar HT18-12 Hyd Tilt, All heavy duty, Adjustable coupler, Just push the button
Stock #: HT18-12 Tilt
Bri-Mar equiptment /construction /landscape/ dump trailers, Several sizes in stock, Call for info and prices. EH18-12,, EH20-14, EH16-10LE, George 508-359-7300 Also several dumps,
Stock #: equipment
2020" HEAVY DUTY ' Hyd dump trailer, Double pistons, Combo rear doors, Pull out ramps, Tie downs, Set up for heavy duty dumps or skid steers. Batt included. Also 7x14s in stock as well
Stock #: DT716dump
Ramp included 6'6" Utility trailer , All steel 2990 GVW ramp, 2" ball 15" tires
Stock #: 6x12 Utility
NEW Landscape & Equipment ramps with complete setup! Equipment ramp has a capacity of 10k.
Stock #: 534534534534
Charter SE g/n 6'9" wide 16ft floor 7'6" tall Lots of windows, wall. Spare tire, Graphics, "Pass thru door in d/room wall. !" 2020 Sundowner 2h warmblood g/n with d/room, ALL Aluminum construction, Saddle Racks , Briddle hooks, blanket bars, Shown in White, " " trailers come with all the Special Yered Trailers add ons!!! TRAILERS HAVE PASS THRU DOORS, !!!!!!!!!!!!!!!!!!!! a 16ft floor for warmbloods...
Stock #: 2021-2hgn
2020 Equipment/ Skid steer trailer. Bri-Mat EH18-14, 2-7k axles, 5 ft tall ramps, Adjustable pintel or 2 5/16 ball (Either) PT floor, Tool bos. led lites16" 10 ply tires, tie downs, Other sizes in stock!
Stock #: 2020-EH18-14
Bri-Mar, DT 716LPHD -14, Hyd dump, Combo rear doors, inside tie downs, 2 ramps under the body. 2-7k axles.. Includes, rub rails, stake pockets, Batt, and tarp. 16" 10ply tires, elec brakes. ALSO 7x14 in stock!!!
Stock #: 2020-DT7x16
2020 Bri-Mar DT712x12k LPLE Dump, Low profile style, Combo rear doors, Batt, ramps under, Comes with tarp. tie downs.
Stock #: 2020-7x12
NEW 2020 CargoPro 6x12 dump trailer. 10k gvw ALL ALUMINUM hyd dump, Includes, Galv wheel , 15" with mtd spare tire, Tarp kit, Double rear doors,
Stock #: 2020-612Dump
2020 Sundowner Charter 2h Warmblood gn with side unload feature. All aluminum with 8 yr warrentty . Pass thru door into d/room, Loaded out with saddle racks, briddle hook, clothes bar, brush trays/ etc. Also comes with a lot of " Special Yered Trailer add ons." You will not see these at other places. " IN STOCK in White" Also available in Silver, (shown on site ) Black, Red, Champagne with or w/o optional lower slated sides. ...
Stock #: 2020 SD 2h gn side unload/dr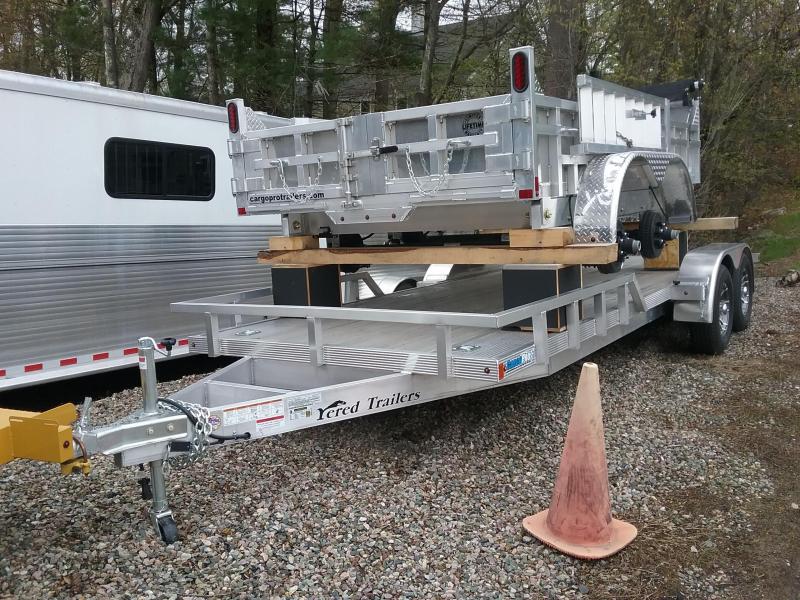 New 2020 Car/Racing haulers. in stock, 22 ft, 24ft All aluminum. slide out ramps, , torsion axles, alum wheels. Full alum deck, Both Sundowner and Cargo pro. Also All Alum dumps, 16ft and 18 ft on order!!
Stock #: 2020 Car Hauler
Selection of open car hauler, All alum, Full deck, Alsocargo Pro 22ft car equipt hauler Also all alum utility trailers.
Stock #: 2020 Auto Hauler
Get a Quote
Please enter your contact information and one of our representatives will get back to you with more information.
Click to Call
Please enter your name and phone number to get calling options.