All Inventory
Stock #: 2006 Elite 2h Slant L/Q
2007 FEATHERLITE gn 3 HORSE SLANT DRESSING ROOM BLACK FULLY SERVICED GREAT CONDITION , NO RUST 3 SADDLE RACKS BRIDLE RACK UTILITY RACK BRUSH TRAY RUNNING BOARDS 7' WIDE 7'6' CEILING
Stock #: 2007 FEATHERLITE GOOSENECK 3 HORSE SLANT DR
! ! Just in ! ! 2010 Shadow 3H GOOSENECK Slant Stock Combo All aluminum Has dressing room with solid wall Saddle racks blanket bars bridle hooks semi rear tack as well, movable wall. 7'4ft slant in horse area 15ft long wall 10 ft short wall 7'2 ft height(floor to ceiling) AWNING: 15ft long by 7'6ft wide...
Stock #: 2010 3H GN Shadow Stock/Combo
New 2018 Fisher Speedcaster Tailgate Spreader Never used!! 5.25 cubic foot capacity Weighs 160lbs Features include: Corrosion resistent poly hopper mounting options of 2" receiver or 3pt tractor mount. Cover for top Dual electric motors Top screen to break up material chunks...
Stock #: 2018FISHERSANDER
Used 2018 CAM 5x8 dump trailer with landscape gate! Includes tarp! The Advantage Series Single Axle Dump trailer is perfect for light-duty workloads around the house or on the job-site. This trailer has the quality that CAM Superline is known for in a small form factor ready for hauling....
Stock #: 2018 5x8
Tetra-POD trailers are the only enclosed trailers in North America that turn into a boat!!! This ATV/car trailer can easily switch between a tub trailer and a Jon Boat.As a trailer it can be enclosed or transformed into a fully dumping trailer!27 cubic feet capacityBoat is rated for 2 people up to 766lbs on water.Includes two removable foam seats...
Stock #: 45243
2022 Bri_Mar Dumps and Dump Inserts, Several sizes in stock, 6x10,, 7x10, 7x14, 7x16, Call for info ALSO DU16x15 ULTIMATE DUMP
Stock #: Bri-Mar Dumps
All alum stock trailer 6'9" wide.7"4" ft tall, 16ft floor V-NOSE, Double rear doors, with cam latches. , alum floor ctr gate, . Rt front door. , Spare tire, 2/3 or 4 horses, Cows, etc, 2horses and a cart?? LOTS OF HAY! Whatever your needs might be!! Note: Shown with " Optional" rubber floor mats. Extra cost. ...
Stock #: 2023-16ft -Stockman BP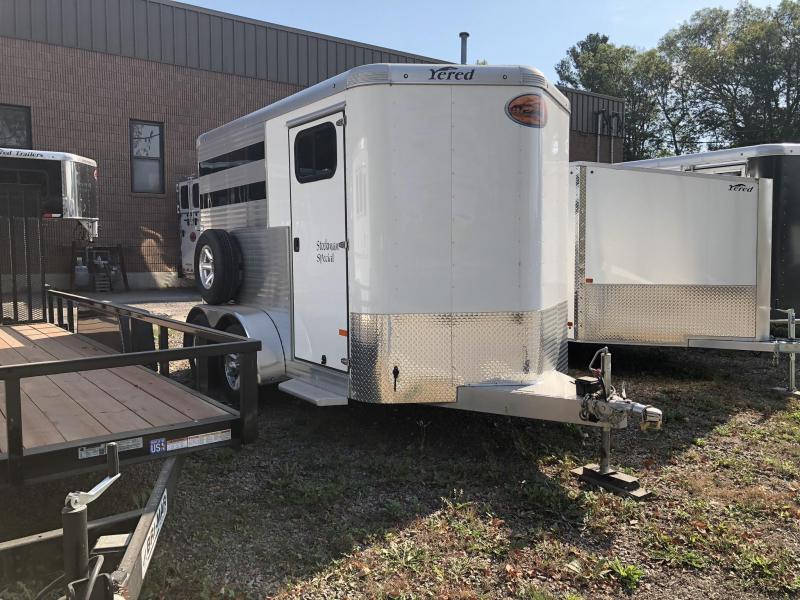 2H slant. 14 to the nose. 7' tall. 6'9" wide, Double rear doors, folding d/room wall Floding divider, You can walk the horse out!. . Plexiglass track, . Spare tire, Floor Mats. Can also be used for other Livestock.
Stock #: 2023-2h stock/combo
2023 Stockman 3 Horse combo, Bumper Pull.. Double rear doors, 7'4" tall. 18 ft floor,, V-Nose 6'9" wide, Swinging tack room wall, First stall escape door, D/room with door, Floor mats, Plexiglass. mt spare tire, Load lite, Heavy duty 2 5/16 ball. . All aluminum. NOTE!! Same as the 2h slant combo in design. !! Sold, more on order!! ...
Stock #: 2023 3hStock/Slant/Combo
Brand new 2022 Santa FE 3H LQ step up in rear, (ramp Available- optional)! 7'6 ceiling!! Loaded out for the safety and comfort of both horse and rider! Interior shown in photos, Pass thru door !!!
Stock #: 2023SANTAFE
2023 ' BRAND NEW ' Sundowner 720 Rancher GN Double rear doors, , Rubber Mats through-out, ctr gate rf door, mtd spare tire, 7'4 tall, Ideal for Horses, cows, all sorts of livestock, even loads of Hay, Comes with 2 side slates that will accept Plexiglass inserts (optional) All aluminum, including Floor, ...
Stock #: 2023 S/D 7x20GN/Rancher
Get a Quote
Please enter your contact information and one of our representatives will get back to you with more information.
Click to Call
Please enter your name and phone number to get calling options.